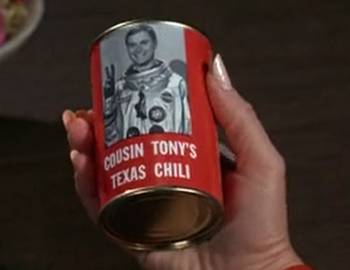 Cousin Tony's Texas Chili was the delicious concoction of Arvel Nelson, Anthony Nelson's huckster cousin from Texas, who is able to persuade Jeannie into helping him get the chili into the local grocery stores in the Season 5 and series' final episode "My Master, the Chili King"; one thing that he wasn't prepared for was the quickness in which she was able to do so, simply by using her magic to "blink" the already canned chili literally onto the shelves of all the local grocery stores!
Tony, who is well aware of his cousin's schemes, is given a sample of the chili when Arvel and Jeannie are in his kitchen; while he agrees with them that the chili is delicious, he does not agree with Arvel's plan, which Jeannie obliges with the use of her magic, to have his image on the label, as it gets him in really hot water with General Schaefer, who doesn't wish to see one of his astronauts endorse a product in the private sector as it's not only against Air Force regulations, but it's not seen as good protocol, either!
Ad blocker interference detected!
Wikia is a free-to-use site that makes money from advertising. We have a modified experience for viewers using ad blockers

Wikia is not accessible if you've made further modifications. Remove the custom ad blocker rule(s) and the page will load as expected.