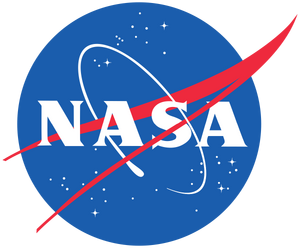 This article is about the fictional version of NASA as seen in I Dream of Jeannie.
NASA is the National Aeronautics and Space Administration. It was founded in 1958.
Programs (manned)
Mercury
18 September 1965 - The long-duration mission, Mercury MA-10, almost ended in tragedy when the capsule landed far off-course on a remote Pacific island. Astronaut Nelson was located and recovered safely.
12 September 1966 - A classified Mercury mission amazingly again went off-course, landing on the same island in the Pacific as the MA-10 capsule a year earlier.
Gemini
Late 1966 - Nelson made his first spacewalk from Gemini 13, the final flight in the Gemini series. Also aboard was Army Major Roger Healey.
Apollo
October 1966 - In training for an early Apollo-Saturn I mission, Nelson dropped from the crew due to a temporary problem with his eyesight.
March 1968 - Nelson and Svetlana Swanson trained for a three-month lunar surface stay, but this mission was canceled due to budget cutbacks.
January 1969 Nelson helps replan the Apollo 12 mission.
24 March 1969 - The Apollo AAP-1 lunar orbit mission extensively mapped the lunar surface, manned by Nelson, Healey, and Navy Commander Winfred Wingate.
January 1970 - Apollo AAP-2 landed on the moon, with Nelson piloting the lunar module to a precision landing. Nelson, Healey, and Wingate had to spend three weeks in quarantine after their return, due to concern about bringing undiscovered lunar germs back to Earth.
Space Shuttle
October 1985 - Nelson commanded the STS-51-M shuttle flight on a classified mission. The spacecraft encountered a meteor shower.
October 1991 - Nelson commanded the STS-46-B shuttle flight on a Spacelab mission.
Programs (unmanned)
AGNES
1968 - Nelson is involved with support and flight tests.